WELCOME
to my Queer As Folk USAppreciation and Anticipation Site!



CHECK OUT "BEHIND THE SCENES" PHOTOS
FROM THE SET OF QAF-USA!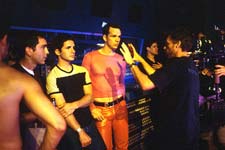 I don't think anybody else has these.
I have a friend who knows somebody in the production and managed to get hold
of some pictures taken on the set. The pictures show the cast and crew at work.
PLEASE NOTE:
This is my first try at a real HTML execution, so please forgive any glitches.
It may not look like much, but I'm pretty sure it works.
CLICK HERE TO SEE THE PICTURES!
ABOUT THIS SITE
This site is for ALL PEOPLE (gay AND straight) who loved the original Queer As Folk from England,
and who are eager to see what the American version is like.
CALL FOR CONTRIBUTIONS:
I'm no webmeister, but I hope to make this site a fun place to visit over and over!
If anyone wants to help, whether it's with HTML or news and views,
or more pictures from the world of QAF, all are welcome here!
Address emails to: hotboyz10001@yahoo.com
SIGN MY GUESTBOOK HERE!

If enough people visit the site, I hope to set up a message board where people
can post their opinions about QAF-USA, and share news and gossip.

I will also post new pictures as my friend manages to get them.